Spice up your Saferoller® courses without compromising safety

Easily integrate games like QUICKjump®, Tarzan Swing or to safely ensure vertical movements with the Saferoller® Transfer.
Improve your customer's experience by offering a unique, safe & foolproof Saferoller® Transfer mechanism
Compatible with QUICKjump® Free Fall device and TRUBLUE® Auto Belay by Headrush
Compatible with POWERFAN® by Dropzone
Intuitive operation minimizes instruction time
Low maintenance
Suitable for ages 7 years and up
Short briefing recommended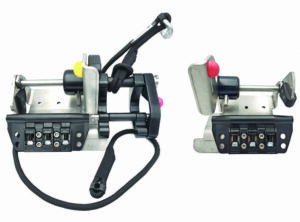 departure- (right) and one arrival station (left)
 The transfer is connected to the Tarzan line, Quick Jump® or Trublue® type device.
A dual asymmetrical lanyard consisting of a short strand connected to the Transfer and a long strand, which provides the redundancy. It is installed out of reach of the user's head when jumping or using.Depending on the trail construction, stations (left and right) can be combined.
Saferoller® Transfer: 7075 aluminum and steel for mechanical or support parts
Saferoller® Transfer Set  includes all parts for direct mounting. If straps aren't necessary, we can remove them from the picking list
Manual included in shipment contains all necessary information for the installation and application of the Saferoller® Transfer
Certified