YOU'RE ON A ROLL WITH SAFEROLLER®  CONTINUOUS BELAY SYSTEM
Saferoller® is the world's FIRST rolling continuous belay system and remains the only system that can be installed with safety line out-of-reach for maximum adrenaline rush (1.7 m to 2.3 m above platform height)
Full presentation of SAFEROLLER® from Organic Adventure Park in Switzerland
How smooth is our SAFEROLLER® Trolley?
Discover how great is our trolley
This high capacity system dramatically increases customer throughput and has one of the lowest operating costs on the market. With hundreds of thousands of miles rolled, Saferoller® leads the industry in durability, decreasing your down-time and increasing your ROI.
The Saferoller® Trolley is a certified mobile connecting device (PPE) conforming to all industry safety standards. Once connected to the safety line, it is impossible to disconnect without the express assistance of an operator. Your safety is assured. From 4 years and up, just slip on and roll. Ideal for Saferoller® Kids Trail and Zip Line Parcours of any length.
Your choice of silent Teflon twin ball bearing rollers or ultra-fast stainless steel. Kanopeo was the first company to introduce a 360° rotating swivel as standard on our product. It reduces wear on the lanyard and avoids self-rotation of the client during zip lines. Designed to resist wear and tear. Rugged, durable and dependable.
Saferoller®: Designed for safety line out-of-reach
The only system that can be installed with safety-line out-of-reach (1.7 m – 2.3 m above platform height) creates a more thrilling and exciting experience for the user. Just slip on and roll. The safety line can also be installed half-height (1.6 m -1.7 m above platform height) for kids trail or mixed trail.
Free your hands: Let the adventure begin
Our experienced consulting team will help you harness the powerful Swiss designed and manufactured Saferoller® engine and create your own custom aerial adventure park.
YOU'RE ON A ROLL WITH SAFEROLLER®
Saferoller®: Leading Edge Technology
Certified Saferoller® Trolley (PPE) available with silent Teflon or Stainless Steel Rollers

Revolutionary 2-Lock Evacuation Safety System

Innovative wear measurement system

Certified Saferoller® Trolley (PPE)

Integrated 360° textil swivel

Individual Serial Number

Peerless "twin" ABEC rated sealed ball bearing sets in each roller

Durable long-life components

Spare parts are easy to exchange, do it yourself !


TÜV Süd Certified
EN17109:2020
CATEGORY "E"
EN 15567-1
EN 15567-2
EN 795 B
EN 12278
RfU CNB/P/11.104
ACCT Standards (USA)
A question ?
---
Our experienced team will be happy to answer all your questions
Why SAFEROLLER minimize operating cost?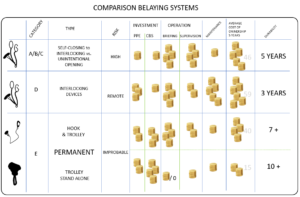 Depending on the security system chosen, great savings can be realized, while your investment will be amortized, your operating costs will still be there, if not increasing.
 Let's break these down:
– Staff costs
– maintenance costs
– sustainability
Finally, the type of system chosen influences:
– easy access to your trails for the kids
– the need for and duration of a safety briefing
– the need to monitor trails
– the interaction between the staff and the customer
– the quantity of evacuation
– the fluidity of the trails
– the training of your staff
– the ability to use less trained employees
– etc.
Saferoller® rolling continuous belay system requires minimal supervision and fewer staff. Let's save money in operation and maintenance, increase customer throughput up to 20%.
Why a safety line out-of-reach ?
The first system that can be installed with safety-line out-of-reach for maximum adrenaline rush and the ultimate experience.
How Maximize Return on Investment?
Professional design and construction increases user throughput rates and reduces staffing requirements.
Enhance user experience by optimizing positioning of start and end platforms, turns, ascents and descents.
How much is the yearly maintenance?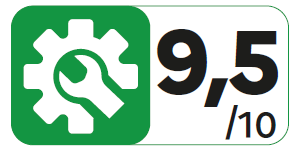 Lowest maintenance requirements on the market and replaceable parts make Saferoller® the industry leader.
What are the security standards?
Saferoller® parts are manufactured according to strict quality standards
CATEGORY "E", RfU CNB/P/11.104
EN 795 B, EN 15567-1, EN 15567-2, EN 17109, EN 12278
ACCT Standards (USA).
Certificate can be check here.

videos