Stop safely on zip lines
SafeStop® is an impact trolley permanently attached to the the lower end of the zip line, used with a braking system. The absorber pad protects the Saferoller® Trolley (PPE) on impact and the braking mechanism (not included) brings the customer to a gradual stop.
Designed to allow the Saferoller® Trolley (PPE) to easily pass to the next element when the customer has reached a complete stop. The Saferoller® Trolley (PPE) does not need to be removed from the safety line ensuring continuous connection and increased safety. The zip line can now be integrated into a continuous ropes course, offering increased flexibility in park design and operation.

)" class="et_pb_video_overlay">
)" class="et_pb_video_overlay">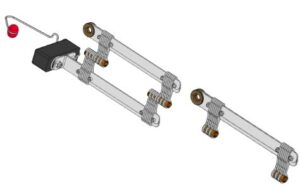 No disengagement of the Saferoller® Trolley (PPE) at end of zip line
(Gradual braking)
Designed for a wide range of weights and velocities
Continuous safety on the zip line
(Automatically resets after each ride)
Course can be completed faster
Increased throughput
Reduce waiting times and increase user satisfaction
Reduced wear on safety wire rope
Reduce staff & operating costs
NEW : trolley retainer spring
NEW : easy exchange of the glider
NEW : always perfect postionning of the Safestop
NEW : secondary device to fix your Emergency Arrest Device to.
For safety line Ø 12 – 12.7MM (1/2 inch)